In Memory
Scott Lee Braunsroth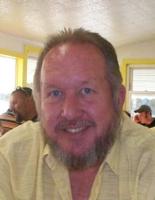 Scott L. Braunsroth (68) of Saint Johns, Florida passed away suddenly Saturday, July 27, 2019.
Scott is missed by his sister, Rhonda (Mike Oakes). He is also missed by his cousins Rick Warwick (Cyndi) and Skip Warwick, Uncles Douglas (Dorothy) and Merlin (Darnelle), nephew Mike Oakes (Aimee) and their sons Alex and Tyler, and many cousins and friends.
Scott was born in Jacksonville and grew up in Spring Park until age 8 when the family moved to Mandarin. He went from a high school nerd with a slide rule to being quite an adventurer. In his professional life, Scott worked many years in the field of orthopedic medicine. Early on he developed his own distinctive cast application style. Outside of work, the adventures began. He was in his element in the water and became a scuba instructor, cave diving and spearfishing along the way. As if that wasn't enough, he also jumped out of a perfectly good airplane and flew an ultralight parasail plane that I (Rhonda) likened to a mosquito! Scott was also known for hosting fun, uniquely decorated Halloween parties for many years.
After leaving the medical field, Scott had the opportunity to put his diving skills, and camera/lighting technical abilities to good use. He contributed to the Water's Journey documentaries, the film The Cave, and was part of the expedition exploring underwater Mayan caves in the Yucatan, which story was in National Geographic magazine and referenced him by name.
As his little sister, I tagged along after my brother for many years. Later on, he was supposed to look out for me, but I made that difficult for him! I have many memories with Scott from our youth. (Like the time I knocked his front teeth out with a golf club when he was trying to teach me a simple chip shot! I told him to move!) As adults, we made fewer memories together on life's journey, but many of you have memories of Scott I'd love to hear.
There will be no services. However, you are please invited to share your best memories of Scott here so we can celebrate his life together.
Memorial contributions can be made to St. Johns Riverkeeper, Florida Springs Institute, Our Santa Fe River, or other Florida waterway conservation organization of your choice.
Integrity Funeral Home