Samuel W. Wolfson

High School




Class Of 1969
Registration is underway!
50th REUNION
Hyatt Regency Jacksonville Riverfront
---
Derby House...Southside Drive In...Mr. Meckley...Miss Wilson...Wolfson, Wolfson Wolfpack...
We're the BEST team, YES, that's a fact!!!
Access 5...Vilano...Hobie...Friday night football...Thompson...Rouzie...Mrs.Brewster...Marlboro's
Mr. Ugly Contest...Brecher-Hinely...Hinely-Brecher?
---
If you graduated from Samuel W. Wolfson Senior High School in Jacksonville, Florida on June 7, 1969, then you are in the right place. To navigate the site, you will need to register and set up your profile. Click on "Classmate Profiles" in the upper left column, click on your name and follow the instructions. You can then navigate around the site and re-connect with old friends.
If you are a friend of the Class of 1969 and would like to have access to our site, please make a request by clicking on "Contact Us".
---
We now have a Facebook page!
Visit us at https://www.facebook.com/Wolfson1969 to reconnect, stay in touch, post news, ask questions and generally share information. Be sure to "Like" our Facebook page so you'll know when we post information you need to know.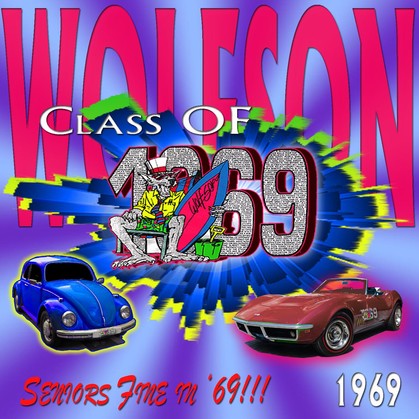 ---
Enjoy these photos and music from the 60's!
Check out these photos from get-togethers throughout the years!